November 24, 2020
16 stories for 16 Days of Activism against Gender-based Violence
International Day for the Elimination of Violence against Women
We stand together against gender-based violence
Wednesday 25th November is the UN's International Day for the Elimination of Violence against Women and the start of  their 16 Days of  Activism against Gender-based Violence campaign. Globally 243 million women and girls were abused by an intimate partner in the past year. Meanwhile, less than 43% of women who experience violence report it or seek help. The campaign is about spreading the message that #YouAreNotAlone, you can speak out and put a stop to abuse, whoever you are. 
Our Ruby @ Turnaround team support people experiencing domestic abuse in Merseyside. Our expert team give women a voice; helping them to understand their experiences and overcome obstacles preventing them from leading a happy life. This can be with or without the perpetrator in it. The focus is always on safety and respect and there is never any judgement. 
Over the course of the campaign we will share 16 real-life stories, reflections and pieces of advice from people we support and staff, standing together with those affected by domestic abuse.  
For domestic abuse support you can contact our Ruby @ Turnaround team on 0800 688 9990. Monday to Friday: 9.00am- 10.00pm and Saturday and Sunday 11.00am – 5.00pm.  
Or by texting 'Ruby' to 60777.  
#OrangeTheWorld 
#16Days 
#YouAreNotAlone 
30-years of abuse, Roseanne's story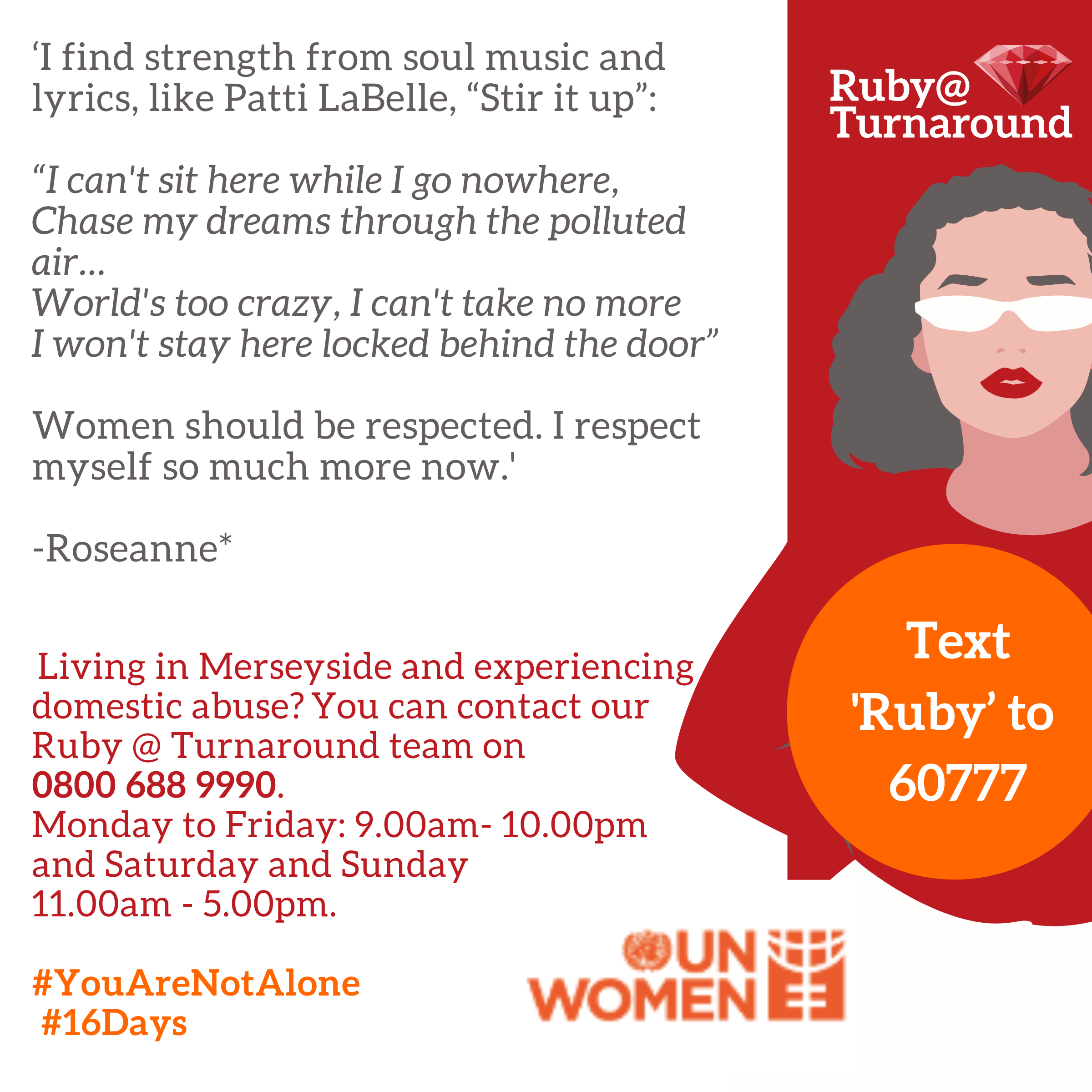 Roseanne* found the strength to leave an abusive relationship of 30-years, two years ago with her daughters. When they left their family home and abuser they were declared homeless and spent six months in a women's hostel. Today, they have been supported to find a home, explore employment opportunities and look at the future more positively.
Roseanne is passionate about women getting the respect they so deserve. She says Shelley, who supports her at Ruby, has helped her to find herself and to trust again. 'She is a wonderful person', says Roseanne. According to her, 'you have to work through this all yourself. Going to counselling isn't someone telling you what to do, it's you finding your own feet.' 'Unless you've worn the shoes you don't know. And now I really understand what I have experienced'.
Today Roseanne reads inspirational books to reach clarity in what she has experienced and she finds solace in soul music. Lyrics echo her story and provide her with strength. She's now determined to motivate other women like her by becoming a motivational speaker. 'I firmly believe in being happy and having a good sense of humour and never dwelling on negativity or criticism.'
Shelley has supported Roseanne to reconnect with herself and find the tools that work for her emotionally as well as guiding her towards practical support options.
A moment that defined Shelley's professional career in domestic abuse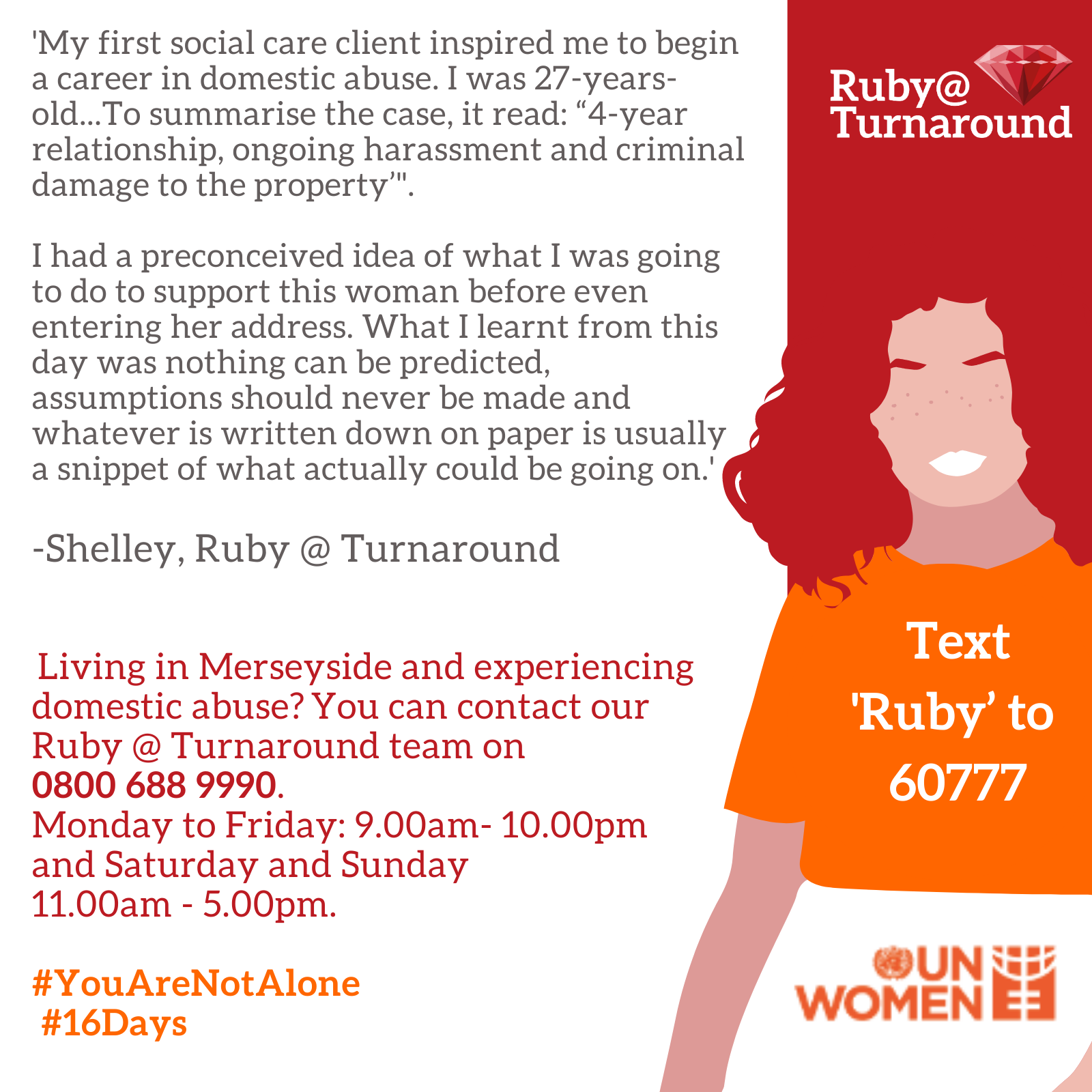 Read Shelley's story: bit.ly/16daysPSSShelley
Domestic abuse support for ex-offenders, Aeoife's* story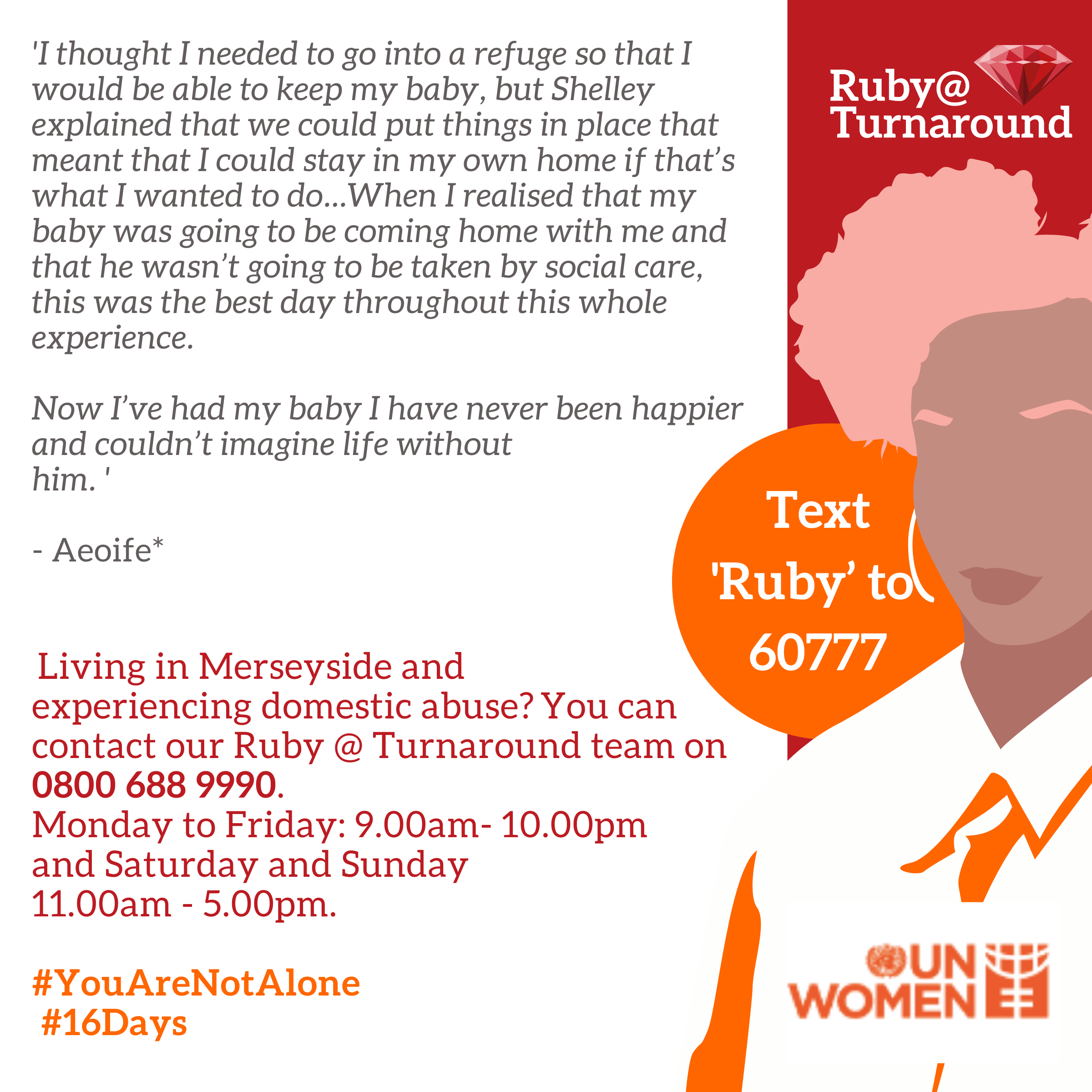 'Shelley was kind to me. I thought I needed to go into a refuge so that I would be able to keep my baby, but Shelley explained that we could put things in place that meant that I could stay in my own home if that's what I wanted to do. Kim gave me confidence to be assertive with professionals when I didn't feel I could be and helped me realise that I have the right to have a say in my own life… When I realised that my baby was going to be coming home with me and that he wasn't going to be taken by social care, this was the best day throughout this whole experience. Even though I thank the Ruby team for everything they have done to help me, the staff always remind me that it isn't them that have done this, it's me…I achieved this with just a little bit of help along the way.
Now I've had my baby I have never been happier and couldn't imagine life without him. I love waking up in the morning and enjoy every day. 
You need to get rid of the bad to receive all the good and that's exactly what I have done and I will never look back.'
–Aeoife*
Read Aeoife's story: bit.ly/16daysPSSAeoife
Using domestic abuse experience to support others, 
Evelyn
's story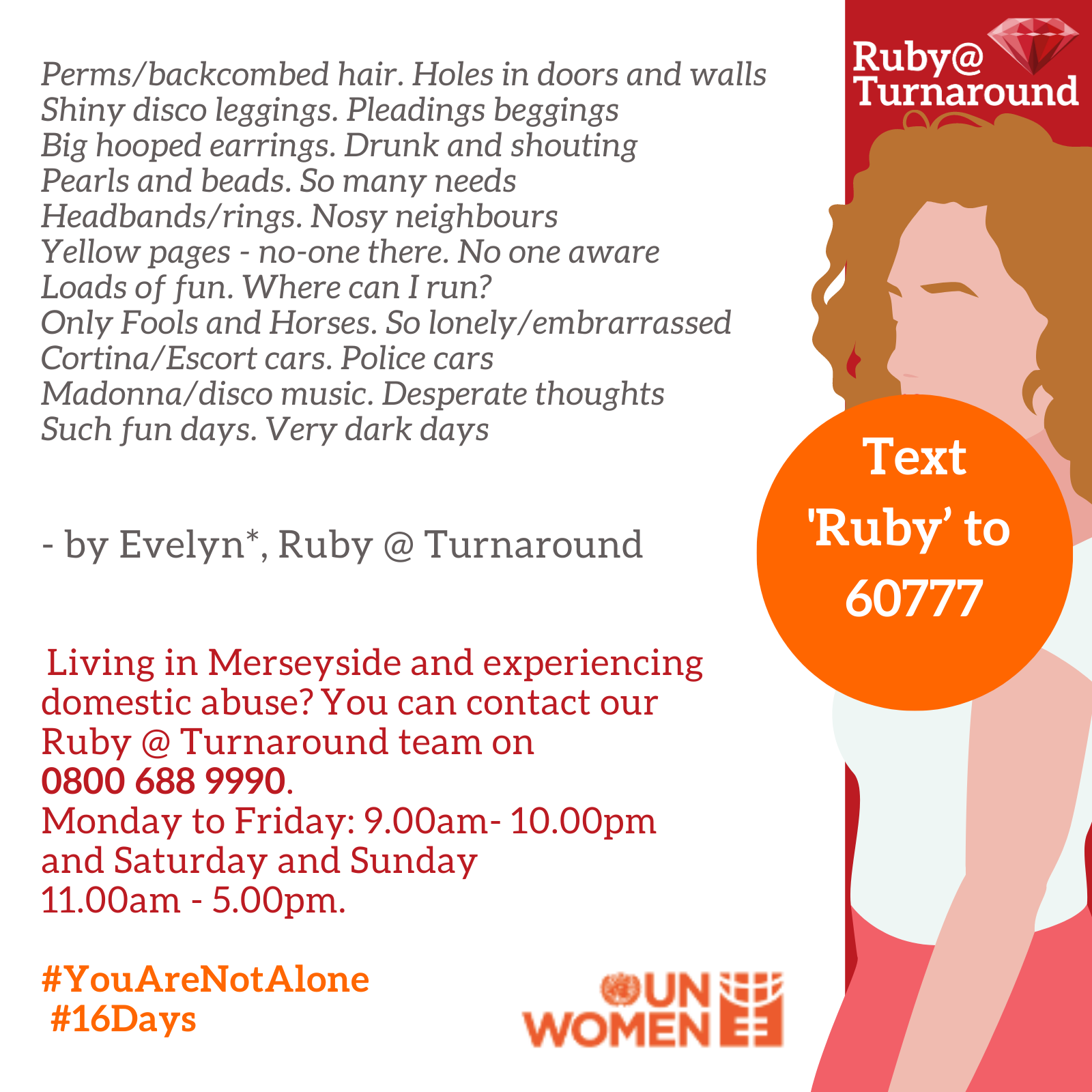 Evelyn* works for our Ruby @ Turnaround service, delivering groups to survivors of domestic abuse. There she draws on her own experiences to support others. She wrote this poem about her past.
Read Evelyn's story: bit.ly/16daysPSSEvelyn
Mary's experience of 'gaslighting' in domestic abuse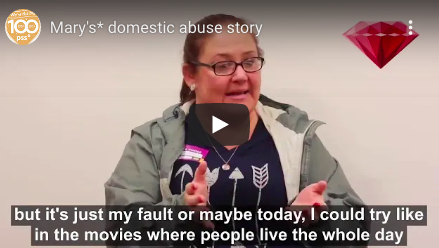 Mary* moved to the UK to be with the man who later became her abuser. Mary's abuser would kick her out on the streets, leaving her helpless and then welcome her back into safety when she was at her lowest. 
Watch her story: bit.ly/16daysPSSMary
Breaking the cycle of abuse, Scarlett's story

Scarlett* experienced severe physical and sexual abuse from her partner who was involved in organised crime and threatened to kill her and hurt her family on many occasions. She faced harassment from this man on a daily basis. He would attack her phone, track her every movement and refused to accept that their relationship was over even when she did find the strength to break free. 
After her son was placed into care after another domestically abusive relationship, Scarlett felt unable to break the cycle of abuse. She was terrified to move from her home in case the perpetrator moved on to attack her family. It took one devastating incident and arrest for Scarlett to finally get refuge. 'It was either this or I would have been dead', she says bluntly. And this is the very real reality of abuse.  
Read her story:  http://bit.ly/16daysPSSScarlett
Support with domestic abuse in the workplace. Meet Ellen
More about Elle's role: bit.ly/16daysPSSEllen
Childhood abuse into adulthood abuse, Carla's story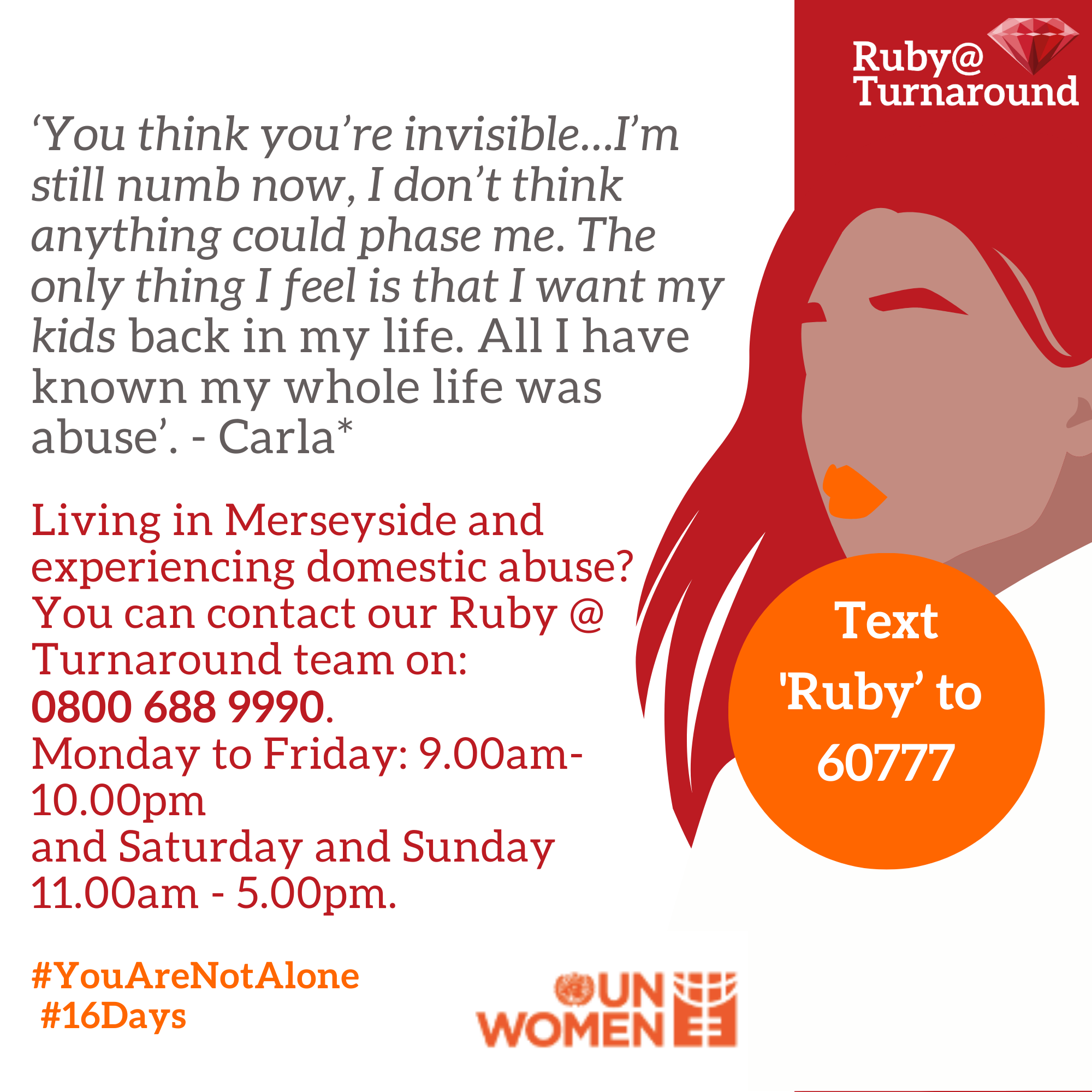 Carla* has experienced domestic abuse throughout her lifetime and so many traumatic experiences. Carla started using drugs at the age of 15, her mum was a drug user and had first introduced her to this lifestyle. She was placed into care and also spent time living with her nan as a child and went back to live with her mum at the age of 12. Carla's mum became involved with a man who was 27-years-old when Carla was 14 who led her to experience things that no child should ever experience. He abused her and her sister and forced them to work on the streets for money, promising that he wouldn't make her carry out sexual acts but never helping her when the moment came. Carla was drugged by this man with heroine as a teenager and saw such brutality from an early age. Because he was a friend of Carla's mum she felt that there was no way out.  
As an adult this abuse continued and worsened with Carla's only coping mechanism seeming the be self-destruction. Until she found the much-needed support of domestic abuse professionals and the police who she had been so closed off to before. 
Read her story: bit.ly/16daysPSSCarla
Domestic abuse support for the whole family
Just last week, Joanne* who had recently faced the difficult choice to move into a refuge with her son for their safety was donated a TV by a generous PSS person after Shelley, from our Ruby team, made a call-out. Her son has autism and was really missing the routine of playing his video games.
Her story : bit.ly/16daysPSSJoanne
Jenny's domestic abuse story

Jenny* was supported by Kim three years ago after a serious domestic abuse incident left her battling for her life. Kim supported her to see that she had so much to live for when she felt her world was crashing around her.
Knowing the weight the experience had on Jenny's son, Luke*, who has autism; Kim wanted to do something special for him. As a big Liverpool fan, she surprised him with a place in Jamie Carragher's Football Academy. He still has the certificate on his wall and talks about it all the time.
Read Jenny's story: bit.ly/16daysPSSJenny
Kavita's experience of coercive domestic abuse and crime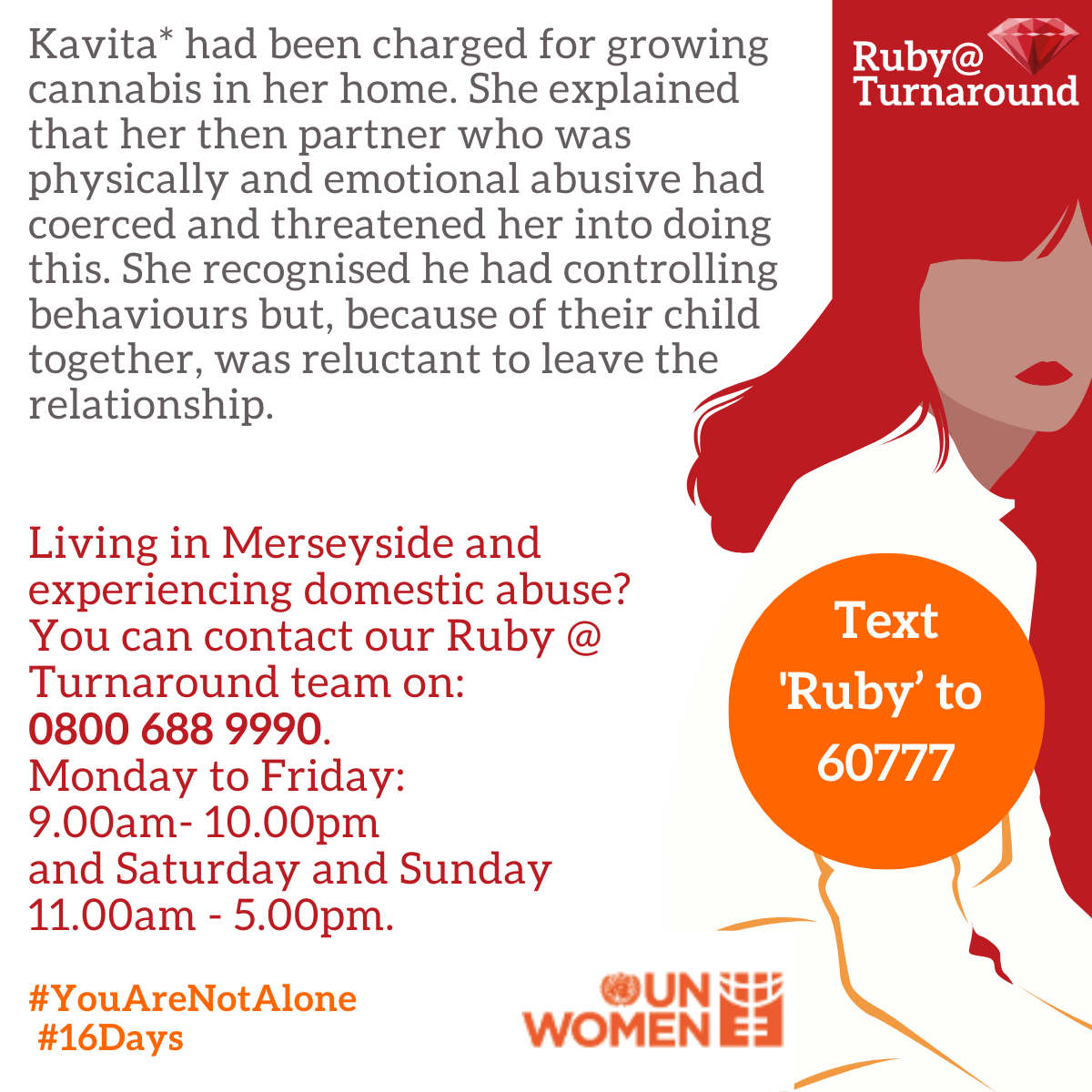 Kavita was referred to our Ruby @ Turnaround domestic abuse service by our partners, Merseyside CRC. She had been charged for growing cannabis in her home. Kavita explained that her then partner who was physically and emotionally abusive had coerced and threatened her into doing this. She recognised he had controlling behaviours but, because of their child together, was reluctant to leave the relationship.
Read her story: bit.ly/16daysPSSKavita
Staying in an abusive relationship safely, Nikita's* story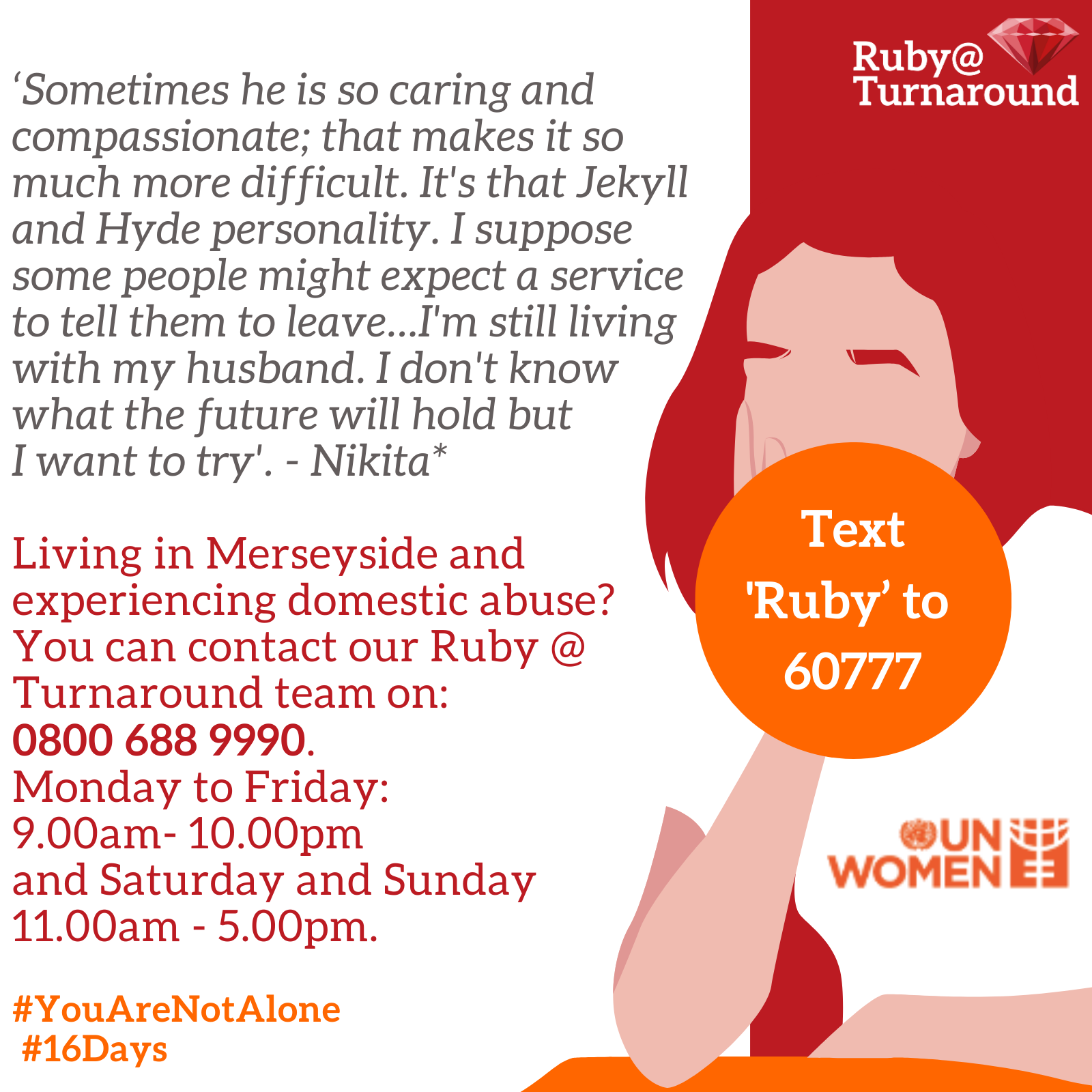 Nikita* found out about Ruby @ Turnaround from her manager. Her home life with her husband had been becoming increasingly turbulent over the weeks and months and, after a particularly traumatic evening, her manager spotted that she was distressed. She decided to check-in with Nikita and her suspicions were correct. Nikita really appreciated the opportunity to talk so openly about what was happening to her and get the guidance she needed to access support.
Nikita is still in her relationship and her and her husband are working through their issues to decide whether they will stay together in the future. During this time Nikita is accessing phone support from Ellen at Ruby @ Turnaround. Ellen offers completely open-minded advice and a listening ear. She understands that there are many emotions to consider in domestic abuse and that nothing in any relationship is black and white. Nikita is being supported to take the measures that feel right for her, to understand the patterns of abuse and to feel more able to manage her experiences. She contacts Ellen over the phone privately whilst she is in work, in a safe space. Her husband doesn't know she is accessing support and he is also going through his own therapy. He wants to work through his behaviours and keep their family unit together.
Whatever Nikita decides to do next she now feels more confident, knowing she has someone to turn to no matter what. She is realistic and understands she may not decide to stay in the relationship in years to come but also remains positive and hopeful that she can whilst the couple both get the support they need. In the meantime, she wants to share her story to other people who may not realise that support doesn't always mean leaving and can be offered safely and discretely.
You can't always see domestic abuse, Maisie's* story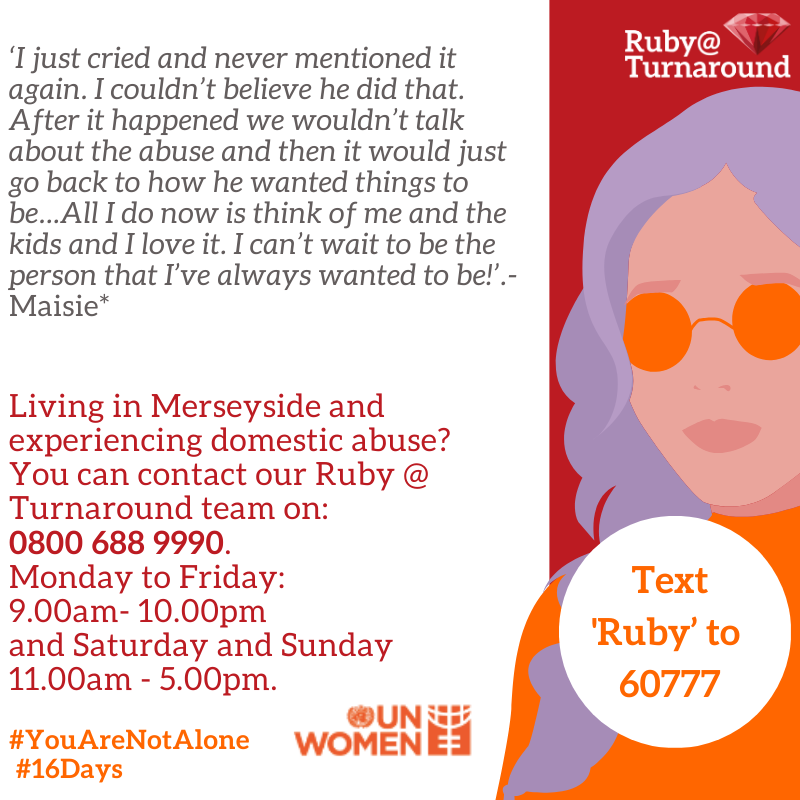 On the surface Maisie* is the most positive, high-spirited person, she oozes vibrance and personality, she is so happy. Underneath all of this, Maisie carries such emotional torment from her past experiences. Never resentful, she is fuelled by the possibilities that the future holds for her and children. But she shows us that even the seemingly strongest, most personable people can carry great weights. She reminds us that we should always be kind and we should always listen, be alert and be mindful of everyone's personal battles. Maisie wants to support other young women like her who might be experiencing domestic abuse or living with the strain of their past experience of domestic violence.
From the age of ten, Maisie was abused by her stepdad. She held this dark secret, scared to tear her family apart and what the consequences might be. She now understands how she was groomed by this man to accept things that no child should ever be subjected to. As a teenager she discovered that this man was also abusing her sisters. In the midst of court proceedings and dragging up so many traumatic experiences from the recesses of her brain she had met Phil*. Phil was there for her, he made her feel more at ease and he gave her strength. After they had a child together in their teens, the cracks started to form, Phil's attitude changed and this progressed into violence.
Today, Maisie is moving forwards with her life without Phil in it. She's going to college and she's taking steps for her children and her own independence and happiness. She's getting counselling to talk about her life experiences and processing everything in a safe space. And it's her mission to get this same support for other people.
Domestic abuse and  the social services, Tiana's story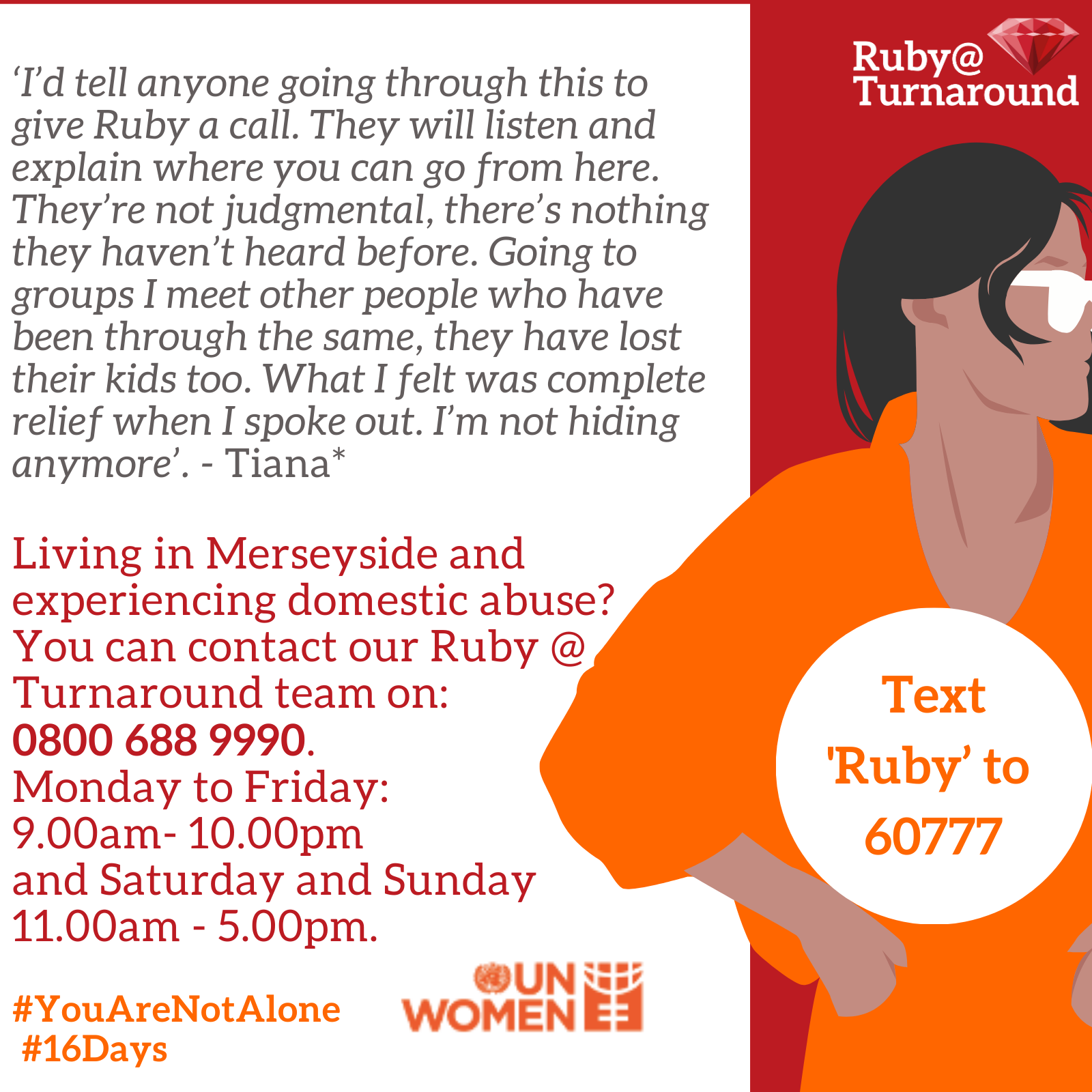 Tiana's* whole understanding of the world has been based on domestic abuse being a normal part of life. As a child she was domestically abused by her own mum and she feels like this set her up to accept this, to be desentisised to it.
As an adult Tiana seemed to keep meeting the wrong men. She went from one domestically abusive relationship to the next, facing extreme violence and emotional abuse. With all this turbulence Tiana's children were removed by social services. At this point she lost all hope. She turned to drugs and attempted to take her life more than once.
Then Tiana found out about Ruby @ Turnaround. It wasn't what she expected; she could come to groups and meet other people who had faced similar obstacles, she could talk openly about what she was feeling and she could get a sense that she wasn't alone anymore.
A moment that defined Kim's career in domestic abuse
Kim is one of our specialist domestic abuse counsellors. So many moments have stood out for him during her time working for our Ruby @ Turnaround service. She has seen so many cases which have truly opened her eyes to the impact of abuse. Some which devastate and some which inspire and sometimes both. 
Shelley* was one of these cases for Kim. Kim admits that sometimes working in the sector can, 'harden' someone. But when she witnessed the severe brutality Shelley had experienced, Kim was shocked.  
She is so ecstatic to hear about the incredible journey that Shelley and her family have been on since. Shelley still checks in regularly after the support she got from PSS during the hardest time in her life. Today she aspires to work in health and social care and use her experience to support others. This fills Kim with pride.  
 For domestic abuse support you can contact our Ruby @ Turnaround team on 0800 688 9990. Monday to Friday: 9.00am- 10.00pm and Saturday and Sunday 11.00am – 5.00pm.   
Or by texting 'Ruby' to 60777.   
#OrangeTheWorld  
#16Days  
#YouAreNotAlone 
Get domestic abuse support in Merseyside
Living in Merseyside and experiencing domestic abuse? You can contact our Ruby @ Turnaround team on 0800 688 9990. Monday to Friday: 9.00am- 10.00pm and Saturday and Sunday 11.00am – 5.00pm. 
Or by texting 'Ruby' to 60777.
#OrangeTheWorld 
#16Days 
#YouAreNotAlone