May 26, 2020
Meet Kim, our domestic abuse counsellor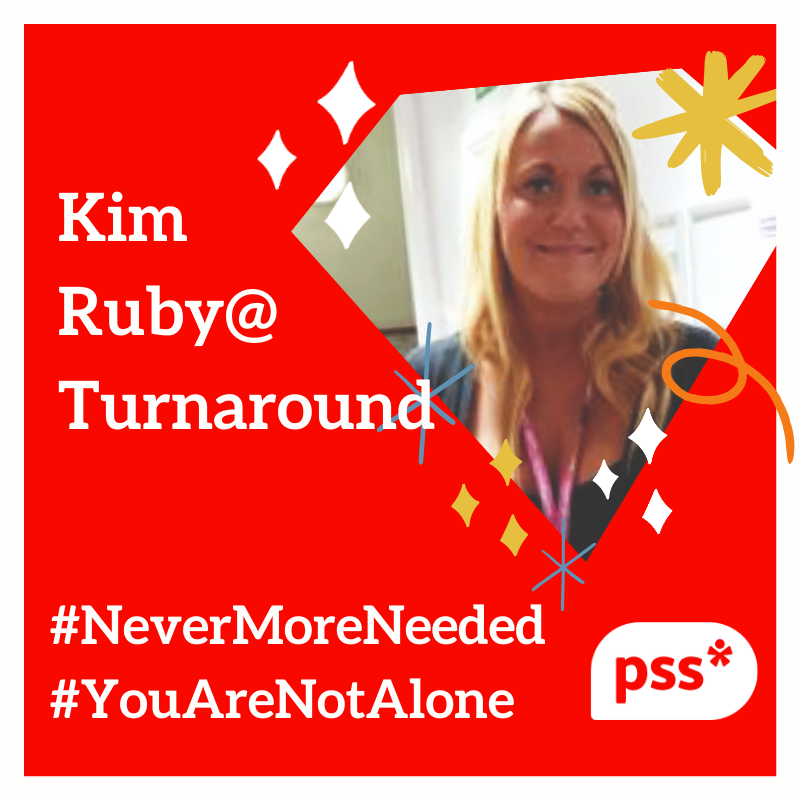 Our Ruby@Turnaround team supports victims of domestic abuse in Merseyside. At a time when domestic abuse is increasing at the same time as many victims struggling to report what they're experiencing, this specialist support was #NeverMoreNeeded.  
Lots of people are now finding themselves increasingly stuck indoors with the perpetrator; whilst abuse intensifies, they feel more isolated and find it more and more difficult to get the safety and space to reach out for support. Our specialist domestic abuse practitioners, like Kim are working alongside women to find creative solutions that work during these challenging times and mean women can still access the support they need. 
One practical solution has been for women to contact the service whilst they are shopping in supermarkets that only allow one shopper per visit. This means women have an excuse to separate from their abuser and a safe space to get practical and emotional guidance.  
For support with domestic abuse, in non-emergencies you can contact the National Domestic abuse helpline on: 0808 2000 247. Or in Merseyside, you can call our Ruby@Turnaround team on: 07714289180. 
Meet Kim:  
Please tell us a bit about you…
 My current role is a specialist domestic abuse practitioner and counsellor for PSS Ruby@Turnaround. Outside of work I am a busy mum of three. I am a bit of a home bird so this lockdown isn't so bad, my weekends tend to consist of long walks in the park with the children and I love getting my PJs on with the kids for a cuddle on the couch and an afternoon of films. 
Please tell us a bit about your role and how you support people at PSS 
 I have two roles within Ruby@Turnaround as a specialist domestic abuse practitioner who supports females who are or have been through domestic abuse and I am also a domestic abuse counsellor. Support is offered to the clients via safety planning based on a thorough initial assessment when we first engage with them.  We do a risk assessment and create a safety plan for them based on their individual circumstances. It could be immediate crisis planning such as finding them and their family a secure place to stay. 
We offer support and advice around criminal and civil procedures and can offer support with protective orders and give guidance on criminal and family court proceedings.  
We can offer support through our female only Women's Turnaround centre too. Here we assess their needs. We take into account things like substance dependency, mental health, finances, child support, education and employment and accommodation. Our clients can access one-to-one specialist domestic abuse counselling and group work. It's whatever works best for them. 
Our aim for these women is to allow them access to longer term support, enabling them to rebuild their strength, resilience, independence and providing an environment for them to take control of their lives. 
  Why did you choose a career in social care?  
 I have always had a passion to work with those who are vulnerable or often go unsupported or unheard. I have a strong passion to advocate for those who, at times, are unable to do so for themselves while building resilience within individuals and empowering them to take control of their lives. I believe that everyone holds their own key to success but everyone needs a little help along the way. Working in this field gives me a great sense of pride. Being able to assist people to turn their lives around makes me smile. 
How have you adapted the support you usually provide during Covid-19?   
I feel our team have been amazing at adapting support in light of this crisis. Our work in domestic abuse has been challenging and presented us with issues around contacting victims safely as many are in the household more with the perpetrators. We have set up safe times to call since all support is currently having to be over the phone. Usually we meet face-to-face so we were worried that some clients would miss this support. I support someone whose partner monitors how long she goes to the supermarket and requires her to bring back receipts. The current restrictions in local supermarkets have been a perfect, safe way for me to continue supporting her. As only one person can attend at a time in certain supermarkets we have picked the ones those restrictions are on. I can then schedule calls when she is inside and alone to talk. She sees the supermarket as a safe place which gives her breathing space away from the perpetrator so the restrictions that are frustrating people at the minute are actually working for her.  
 We also support individuals whose families may be open to children's services. This has continued but through video conference meetings with the family social worker and other involved professionals. Some meetings have been conducted via conference calls with the women included too. I find this support is good as the women know we are still working together to keep them and their children safe and the group conference calls show they are part of the process. It's nice for families to know that even though everyone's method of working has changed our clients are at the heart of what we do and have not been forgotten. 
 We have also been completing conference MARAC meetings chaired by Police and involving other agencies. This is for the high risk domestic abuse cases and their children. When we feed back the outcomes from the meetings to our clients there is a strong sense that they are grateful that we are still doing everything we can to support them at this difficult time, even though it's remote support. 
 What have been the biggest challenges in this and how have you sought to overcome them?  
  For me, it's the lack of face-to-face work completed. We use our women's centre so much as a place of safety for our clients so right now this is taken away. As mentioned earlier it is scheduling calls to the victims of domestic abuse so they know they are not alone and can access crucial safety work when needed and also the emotional support crucial to them at this time. Over the phone counselling has, at times, been challenging. I have been the busiest I have ever been with coercive control increasing due to the victims exposure to the perpetrator being heightened. This causes detrimental effects to those suffering mental health and mental health services being stretched/ adapted at this time. But this for me is why it's so important we keep operating and doing even more than usual. That's what our team do. We respond to the need/crisis and we let people know we are there for them. 
As the clients social interactions have been reduced, their social isolation has increased, giving the perpetrators more control and reducing the times they used to be able to seek support via family and friends. That is why we have been in regular contact.  
 Another challenge is completing the counselling at home with two small children who love to try and sneak upstairs out of sight. I have to bribe them with chocolate and biscuits to behave. I am very lucky to have a helpful 16-year-old at hand who helps alot every day and has watched Disney films on repeat for the last few weeks. 
Do you have any examples of specific cases of people you support that have really stood out to you right now? 
  I support a  lady who is currently pregnant. Her domestic abuse is historic and she is now in a safe and healthy relationship. She struggles with low mood and due to restricted healthcare has been worried about the pregnancy. I introduced some mindfulness work she can complete at home and she has really engaged with this, her anxiety has massively reduced and when she feels bouts of anxiety she practises the techniques. I find her strength to overcome anxiety astounding. At a time when it might control her she isn't letting it. I find this crisis has really brought out people's resilience and I am proud to be a part of their journeys. 
 I also support a woman who was suffering abuse for several years. We always discussed safety planning and refuge but she was never ready to leave. She contacted me two weeks ago and we completed a safety plan and got her into a refuge which was such a positive and brave step. Her mother contacted me a week later to thank Ruby@Turnarnound for encouraging and working with her to take control of her life and free herself from abuse.  
 What has kept you going and do you have any messages to people also working on the front-line right now, or people finding themselves overwhelmed by everything?  
 I would say to remember this will not be forever and we are all in this together. This crisis has shown some of the greatest acts of human kindness and after this storm will come our rainbow. We will beat this together, we are making a difference and everyone in this is doing such a fantastic job! 
For support with domestic abuse, in non-emergencies you can contact the National Domestic abuse helpline on: 0808 2000 247. Or in Merseyside, you can call our Ruby@Turnaround team on: 07714289180. 
#YouAreNotAlone