September 14, 2018
PSS head office in Liverpool is moving
It's the end of an era and an exciting time for us at PSS. After over twenty years, we're packing up our head office in Liverpool and moving to a brand new Liverpool location on 31 October 2018.
What will this mean for you?
Our new address will be:
Eleanor Rathbone House,
Connect Business Village,
24 Derby Road,
Liverpool L5 9PR
 Our office at 18 Seel Street will close for good on 31 October. If you're someone who usually comes in to see us in Liverpool, you'll need to come to our new address. Our new office is three miles away from our current one, so it may mean you need to travel a little bit further to get to us, or, it may now be closer to home and mean you don't need to travel as far.
Getting there
Our new place is super-easy to get to and there are some great transport links.
By train
Your nearest train station is Sandhills, which is less than a three-minute walk away (you can see our office from the train platform, it's that close!). This is a Northern Line station covering the areas of Kirkby, Hunts Cross, Liverpool, Ormskirk and Southport with connections to Manchester, Preston and Wigan.
By bus
There are a few bus stations to choose from within one – three minutes' walk from the office, including Sandhills Lane, Sandhills Station and Errington Street. You'll also find other main bus route options between 10 and 15 minutes' walk.
By car
If you're driving in to see us, we've got loads of free parking.
Why are we moving?
Our office on Seel Street is old and costing us an arm and a leg to repair all the time. There are hardly any windows, parking is expensive and we don't have much in the way of heating or air conditioning (which made for a pretty sticky summer this year). In short, it's just not working for us anymore.
The land our Seel Street office is on has grown an awful lot in value since we bought it, so we wanted to grab the opportunity to make the most out of selling it.  Our new building, which we've named Eleanor Rathbone House after our founder, is a great investment for us – a nice little nest egg for the future.
Our Seel Street home may not look pretty, but it's been good to us. What once started as The Beatles Museum then became the setting for a lot of lovely memories for us at PSS. As we move into our centenary year, the timing's perfect for us to say goodbye to our current home, and say hello to a brand new era.
Our shiny new office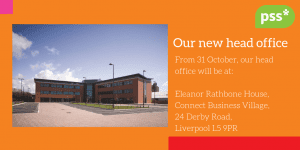 Being just outside of the city centre means no more battling with city hustle and bustle to get to us.
Eleanor Rathbone House is a much more comfortable place for you to visit and for our lovely teams to work in – it's newer, brighter, has more space and cosy places to sit, has lovely new therapy rooms, a place to grab a coffee and, one thing you'll be very familiar with: a very warm welcome.
Come and have a look
When the big move has happened, you're more than welcome to pop by and have a look round.
Before, during and after the move we'll be just as accessible as we've ever been – we're here whenever you need us.
If you have any questions or concerns, please don't hesitate to get in touch. You can give us a call on 0151 702 5555, drop us an email: thebigmove@pss.org.uk or get in touch with us via Facebook (PSS UK) or Twitter (@PSSpeople).
We're looking forward to welcoming you to our new home.