February 18, 2020
Ashley's life is turned around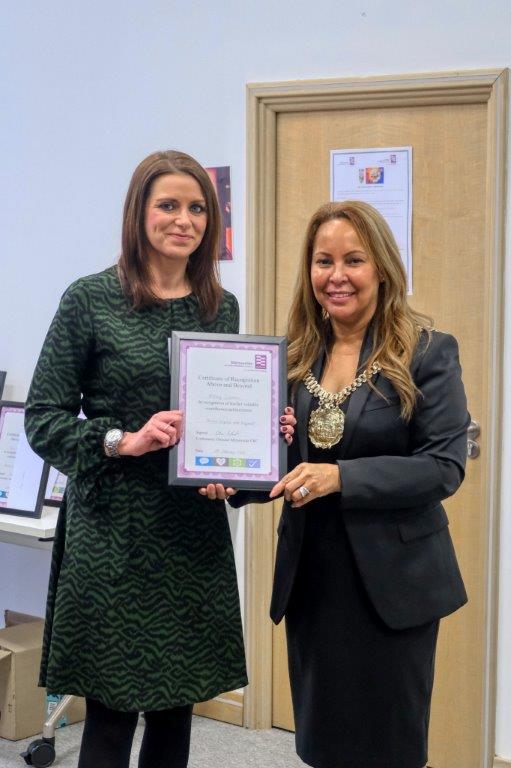 Our Women's Turnaround service supports female offenders to turn their lives around in Liverpool. There's a number of reasons why women offend and we believe that life shouldn't be put on hold because of a past mistake. Our specialist team offer practical and emotional solutions for women to feel happier, healthier and more supported following on from their offence.
Last Thursday 13th February, our partners Merseyside CRC ran an event that was all about recognising the achievements of the women that we support after leaving the criminal justice system. Ashley, someone previously supported by the service, won an award.
Ashley had been involved with the criminal justice system on and off since 2013. She had faced difficulties with social isolation, poor mental health and substance misuse. Ashley came to Women's Turnaround in 2018 and was determined to make some positive changes in her life. She attended a number of intervention groups provided by our Women's Turnaround team and other agencies that focused on her wellbeing and her addiction. Today she's flourishing, her confidence has grown massively and she's also found paid employment.
Since Ashley started with Women's Turnaround she is a changed person. With every new success, she looks to the next step, growing in strength each and every time. Perhaps Ashley's biggest breakthrough moment was being involved with a joint writing project with Women's Turnaround and Writing on the Wall. Ashley played an instrumental part of the group that put together the first book 'No offence' – Voices from Women in Turnaround. During the ten week course, Ashley grew immensely in confidence and was able to express her thoughts and feelings about her recovery and experience of rehabilitation in a safe space.
After the group ended, Ashley continued to work with Writing on the Wall as a volunteer, working on a number of projects. This led to her being offered a sessional worker post and Ashley came back as a paid worker with Writing on the Wall to work on a second book with the Women's Turnaround team.
In addition to this, Ashley has also secured employment working in a hostel, volunteered with a local drug agency and done some professional training to develop her skills and knowledge. Throughout this, Ashley has remained abstinent and has addressed the issues that led her into the criminal justice system. Ashley is a shining example of how with the right support and guidance, and a good team around you, you can turn your life around.
The whole Women's Turnaround team are so proud of Ashley for getting the recognition she deserves for all the hard work she has done.
Find out more about our Women's Turnaround service.