June 18, 2019
A chat with Sue Newton: founder of Shared Lives
Abba were taking a chance, Sandy and Danny were strutting their stuff at the fairground and the rest of us were invading space down at the arcade. In 1978, PSS people were also creating their own classic by setting in motion an astronomical shift in the social care landscape. This was the year that our beloved Shared Lives was born.
One woman was at the centre of introducing this adult placement spearhead, which still shapes so many people's lives to this day. Sue Newton was there at the very start of Shared Lives – challenging the status quo; adjusting people's perceptions; finding people built of the right amazing, yet ordinary stuff to be Shared Lives carers; and most of all, bringing a bit of light into so many people's lives. Sue is pictured on the top left in the picture above in the early years of Shared Lives, with some people who used Shared Lives and their carers.
They say that life begins at 40 and Shared Lives certainly seems to the thriving in its 40th year… 96% of Shared Lives placements and carers were recently graded as good or outstanding by CQC. To celebrate this big birthday, we thought we'd go all 'This Is Your Life' and see where it all began. Can you guess who we interviewed, to tell us all about this? That's right, Sue Newton popped to PSS HQ, to get all nostalgic and offer up a lovely 40th Birthday present to the Shared Lives lot—the gift of story-telling. Here's what Sue had to say…
How did your journey with PSS and Shared Lives begin those many moons ago?
I'd been to university, got a science degree and worked a bit and, in those days, you stayed at home and looked after the family. When my youngest turned six, I'd done some volunteering work for a charity. I thought this was a wonderful experience and decided that — if I was going to do social work –I better get a degree and accreditation. I wanted to get some experience in social work to see if it was right for me, so I interviewed for a placement with PSS, in Stanley Street. . I started at PSS in 1978.
How did Shared Lives come about?
Norma Nelson applied for a grant for Shared Lives before I started. She doesn't get enough credit for this. It started as an idea to keep people out of institutional care and give their carers a bit of a break. Norma Nelson thought I would be the right person to look after this new idea. I think we got £3000 for the first year and £5000 for the next two years. This was quite a lot of money at the time.
Can you tell us a bit about what the social care landscape was like before?
If you were looking after a mother or father or an aging relative and wanted to have a break, then you would ring up social services and see if there was a bed spare. You would get a spare bed in an old people's home from someone who had been taken to hospital. That was it. There was virtually no resource to look after this. The other thing which I hadn't realised was that quite a bit of it was aimed at rehabilitation…taking people out of hospital. This seems quite strange, because rehabilitation is a modern concept. But it was happening back then. I can remember taking people who'd had strokes to carers and they'd forgotten how to use a telephone or count money. The carer would very nicely and naturally support them to do this again so that they were all equipped to go back home. It's absolutely marvellous. This has all come around again with Home from Hospital.
Back when Shared Lives started, were there any objections?
Yes there were. I have a wonderful advert which we put together to attract carers in the early days. It simply asks 'could you care?' Some people had to get used to the concept. It was completely new, so when making a placement, I had to make a judgement. I had to find out, is there a need, what sort of need it was and then see what we could do. I didn't know what the carers would be like and what they could cope with. I knew there were kind, nice women around; carers were mainly women at the start. We had to work with GPs for people to be referred too. There was some dichotomy, some people understood adult placements and some people didn't. Some people didn't see how someone could take someone else in and that included the GPs.
When you first heard about the idea, did it initially feel like something that would change the social care landscape?
No! You didn't know what you were doing.
The concept was there, all over the world. There's been reports of this type of caring relationship being around forever. It's human nature – and it had to be thought about very fundamentally. I'm sure during the prehistoric times, people would be sitting in their caves and take care of people who needed support. It was also a very new thing. There was certainly no charity doing it. It was a sort-of new beginning of a very old concept.
Can you tell us a bit about some of the first carers?
The first carer I got was an ex-nurse. I had to go and interview the person who wanted to go (into the placement). I'd meet their family and we'd have a pre-placement visit. I'd then take them to the carer and be on call to make sure everyone was happy. This first lady couldn't cope with the person she was caring for. She kept emptying her cupboards, lining glasses up on the table and then doing this again. It was difficult for people to adjust. I found a lot of wonderful women to be Shared Lives carers. They were ex-nurses too. Mrs Cray was one of the first, Gladys Armstrong too. Joan Cray lived in a very unassuming home in Croxteth. She would support just about anyone and really work with them. Any shape, size, attitude or anything. She would just welcome them and they would be loved and wanted.
In those days, lots of people lived in very squalid conditions. I can remember a lady living in a home where she had to go to the toilet outside and walk through a cemetery to do this, because her toilet didn't work. Her house was filthy, it was flea-ridden and her hair was matted. Gladys received her like a queen. She had her hair cut, she had a bath and was returned home all clean and shiny. This was no trouble for her at all.
It sounds like you had a very hands-on role at the start. What was that like?
I didn't mind that. I was responsible. I was on call all the time and had to do everything. In the end, Dave Cowhig joined and helped with 'on-call'. We did respite care and boarding-in care back then. A budgie died in a house once and I had the task of replacing it. The family realised, but it was all alright.
I had to travel all over Liverpool, so I got pretty familiar with it. No two days were the same. Robin Currie (PSS's previous chief executive, who line-managed me) was very supportive. If I suggested we needed something, Robin would support me. He trusted my judgement. If I asked: 'Why don't we…' the answer would usually be 'yes, we can.' We changed from short-term care to long-term, which was quite a jump. We could have said no, but Robin was very good and open to moving things on. That seems to be the philosophy here (at PSS). You make sure that if we're asked 'why can't you?' you reply 'yes, why can't we?'
Shared Lives went from being mainly short-term care for older people to a short or long-term opportunity a much broader range of people, too. How did it evolve?
It developed for people with learning disabilities when one night, I was rung up late evening. There was a daughter who had a learning disability and her mother had been taken ill. It seemed inappropriate to put her in an old people's home. She went to Joan. Joan was wonderful and she (the woman) was absolutely at home. I then asked if we could do something with learning disabilities, and we did. For mental health, people were saying 'well I don't want to go and live in an old people's home' and carers were saying, 'I have someone short-term and I would be happy to do long-term'. In the 1970s the shut-down of long-term institutions like Rainhill made a big difference. Rainhill shut-down and it was a huge psychiatric hospital. To have this shut-down was a major thing. People were worried about this. I remember people saying: 'You'll rue the day you started taking people out of these places.' I went to assess people to see who was a good-fit for Shared Lives. It wasn't right for everyone and you couldn't force people. I remember a carer in Woolton took a lady from Rainhill who had delusions and was hearing voices. She had been in Rainhill for 50-60 years because she'd set fire to some curtains. You could end up somewhere like that and never get out. You can see why people wanted to close these places.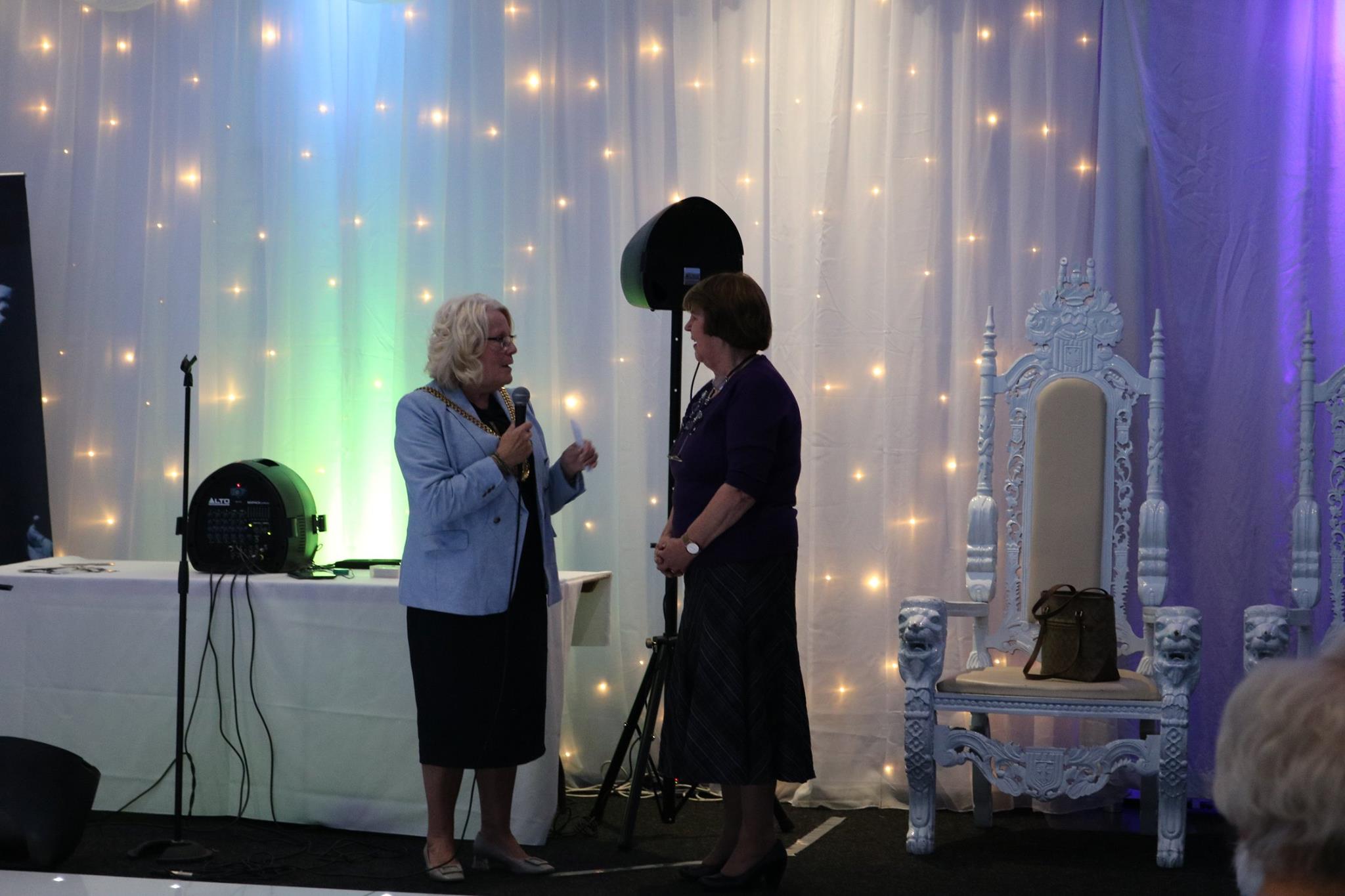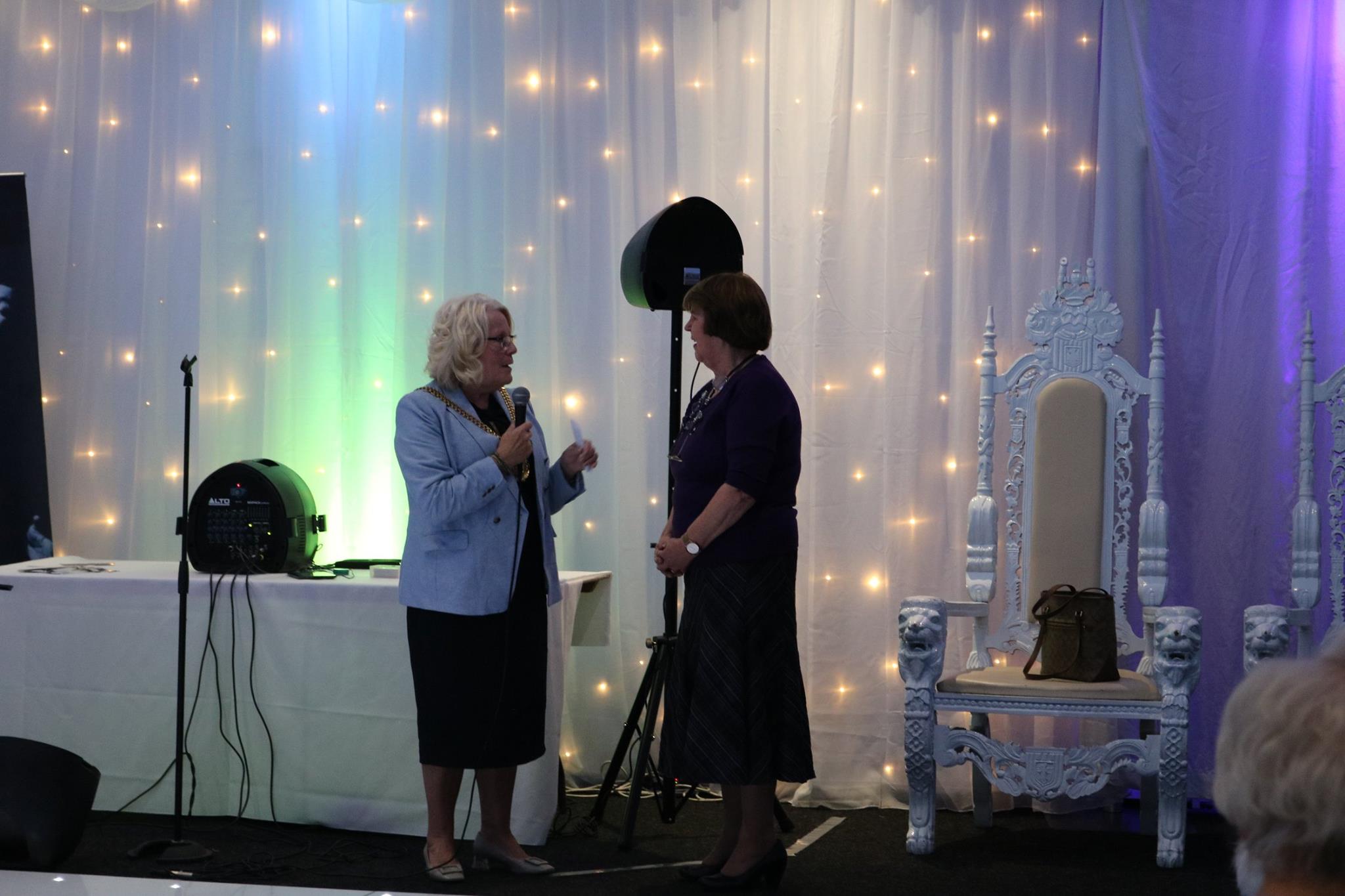 Sue and Lord Mayor Christine Banks, commemorating the special milestone for Shared Lives during the 40th celebrations
What was impact did Shared Lives have on people who had lived in what was then called an 'institution'?
They weren't even allowed to open windows there.
It was summed up well by one woman who had lived in a long-stay hospital. She was interviewed by Roger Phillips at Christmas time. This was her first Christmas in a very long-time outside of hospital. He asked her if she was looking forward to Christmas and she replied 'Every day is like Christmas here.' That's what it was like for her to live in a family home. I well up and cry at all these things, but it was wonderful. It was a dream for them. It wasn't always easy to live together but people forgave them and were very accommodating. It's the same as any family set-up. You have to negotiate and compromise. They worked very hard, the carers. But they loved the people. They were just part of the family. It's the normality of life which is important. You can open your own front door, you can take your milk bottle off the step. You belong in the community. It's this normality that we all take for granted. It's the actual feeling in your heart that people like you and have chosen you. It's quite a gift to give to someone. An incredible gift.
It was such an incredible thing to shut down these long-stay hospitals. Lots of people were shocked. Staff would break the beds so that they (the people who stayed there) couldn't come back. They expected that this would never last. It was such a major change. It was a major social movement to get people out of long-stay hospitals. We took twelve people from Rainhill and then more from Olive Mount.
We've heard that Shared Lives went by a few different names in the past. How did you settle on 'Shared Lives'?
In the beginning, we didn't know what to call it. We called it 'boarding-out'. It was the same principle as the fostering of children but we didn't want it to be mixed up with that. Then it was decided to call it 'adult placement', but other people would call it 'rent a granny'. I think I suggested the name 'Shared Lives' because it sums up exactly what it is. It reflects all the different aspects.
You've met tons of Shared Lives carers over the years. What do you think is the best quality a Shared Lives carer should possess?
I think they're like us all. They're ordinary really but they just seem to want to incorporate people into their family circle. If they're willing to increase their family circle, that's the most important quality. If you go to a litter of puppies and choose one, there's something very special in that. You could have had any one, but you've chosen each other. The person being placed wants to go and the carer wants them. A lot of work goes into finding these matches. If you're willing to find a place on your hearth, then you're right for it. If you'd be happy to place your own mother with a carer, that's the quality to go for.
Do you have any thoughts about what the future of Shared Lives should look like?
I would introduce something for soldiers, too. They're really at risk when they come home. There could be a lot of good done for them living with carers. I think Home from Hospital could certainly grow too. More rehabilitation placements would also be really beneficial. Things like mother and babies. A stepping stone is great and there's lots of different ways to give this to people.
Did you hear that 96% of Shared Lives placements were recently graded good or outstanding by the CQC? How does it feel to have been a part of setting up something 40 years ago, which is still so successful today?
That's really good stuff! To get to that level with CQC is impressive. It makes me feel good! You don't realise how far it will come at the time. It's like a tree, you plant the seed, and it grows some shoots and off it goes. As long as something has the right ethos, it will last. Shared Lives has this. People using the service are now a lot more involved in the service, which is good. The world is your oyster.
We're so happy to hear that the founder of Shared Lives is proud of what Shared Lives has become and the continued impact it makes to so many lives.