May 20, 2020
Peter's #MentalHealthAwarenessWeek story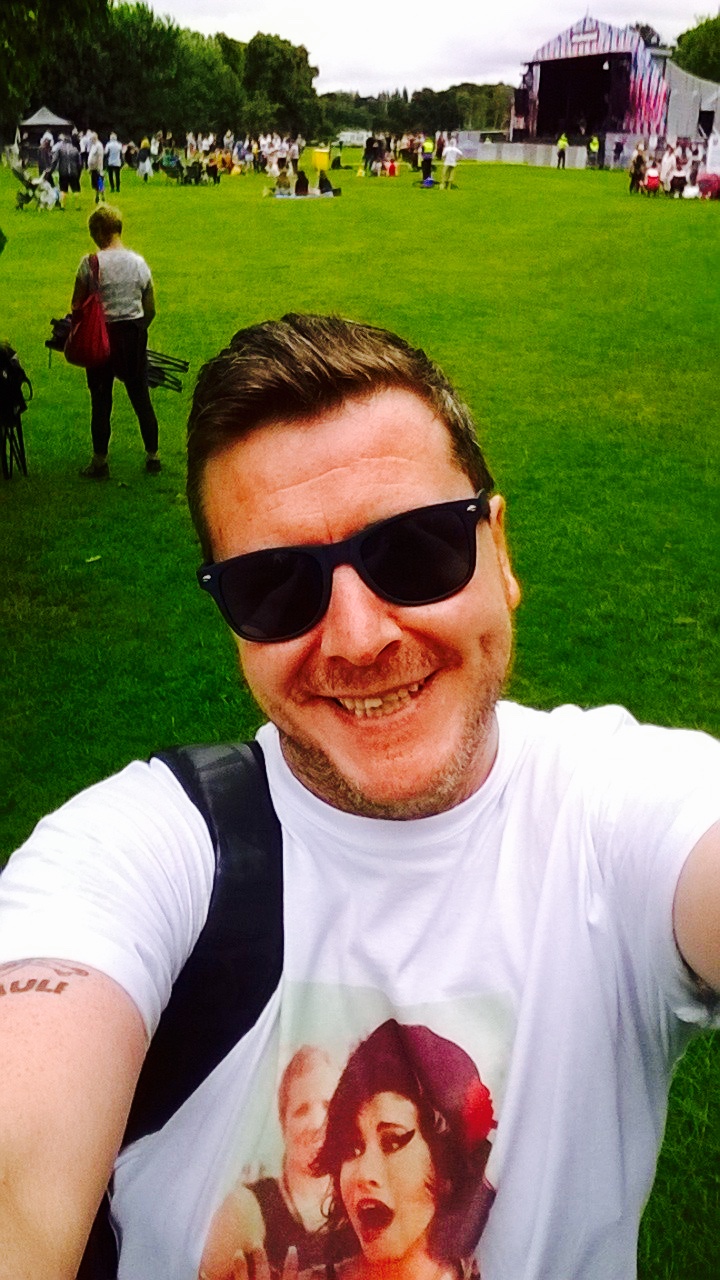 Peter has been using our Wellbeing Centres in Liverpool since June 2019. For many years, Peter has struggled with his mental health. A self-proclaimed social butterfly, Peter comments on how sometimes people might mistake this for a person with no anxieties, somebody who is completely happy in their own skin. This is not necessarily the case. Peter has struggled from a young age with various traumatic experiences and separation anxiety from living away from his family as a child. Throughout his lifetime he has sought support for his anxiety and depressions which really escalated in 2015 after he lost his mum who he had been caring for. He also went through a divorce in that same year. At this point, Peter felt unable to cope with his life, he thought about suicide. Today, Peter is feeling more in control of his life than ever and really credits our Wellbeing Centre team for opening new doors for him and new support options. 'I'm still here', says Peter, 'that shows something about how strong I am'. Peter has recently volunteered to support our Board of Trustees in recruiting a new member. He'll use his experiences to find a new trustee who really encapsulates the PSS values. He can't wait to be a part of this process. 
When asked how he has been coping during Covid-19, Peter explains how he is enjoying some aspects of this slower pace. 'I am most resilient…I think back to my lowest moments and think I could possibly cope with anything now'. He talks about how PSS has saved his life. Peter also comments on the kindness of those around him. He explains how neighbours have become friends just from talking two metres away when he had never known them before, he's chatting to the guy who runs his local convenience store and he's smiling at strangers in the park. This mirrors the kindness that he felt when first coming along to a celebration at Dutch Barn, our wellbeing hub in Garston, Liverpool set on an urban allotment space. This is where he learnt about the support he could get at the Wellbeing Centres, greeted by lots of smiling, welcoming faces of those accessing the service. The warmth and kindness of others has really supported him to stay positive then and now. And during Covid-19, he may not be able to enjoy his biggest new passion of beekeeping but he's still enjoying the virtual singing lessons with his new friends, closing all the windows and really belting out a tune! 
#KindnessMatters 
#MentalHealthAwarenessWeek 
Peter first was first properly made aware of his mental health needs in 1993. He was in University in Northampton at the time, miles away from home. Peter had become really home sick and was struggling to cope, frequently using alcohol as a way to block out his anxiety and depression. He laughs about when he drank red wine in university to impress girls and then realised that drinking a glass before university probably wasn't healthy. He first accessed counselling on 10th October, World Mental Health Day and also his birthday. He remembers distinctly having a really positive conversation with the counsellor about how World Mental Health Day had started a year before and they talked about how amazing it would be if the awareness day was still around 25 years later. Ever since, Peter has always been a big advocate for awareness days like this and Mental Health Awareness Week. He loves how people talk about their mental health on these days more openly and it really sparks a conversation – because he suppressed this for so long. Peter talks about how he loves a good cry and finds this to be the best way to overcome any feelings of anxiety and depression and really vent. He remembers being younger and completely boxing these feelings up and forgetting about them. It was when his mum passed away in 2015 that Peter really lost control of his emotions after experiencing bouts of depression and anxiety his whole life which resulted in him being signed off work and prescribed medication.   
Peter had always had a very close bond with his mum. Peter experienced a difficult childhood where his entire family relocated, his mum and dad got divorced and Peter moved in with close family friends because he really didn't want to leave his hometown. After this separation, he always wanted to spend as much time as possible with his mum. Peter now sees how upset he was to be separated from his family, something that he didn't necessarily understand at such a young age, nor have support available to get him through this situation. He remembers crying on the floor at age eleven wondering whether he would see his mum and dad again. Later in his childhood, Peter was abused by a family friend. He remembers being beaten by him and not understanding why. At the age of thirteen, Peter told his mother what was happening to him and told her that he didn't want to live any more, his first experience of suicidal thoughts.  These suicidal thoughts then resurfaced when Peter went to university and was again separated from his family. These thoughts have always been a part of his life, still now at the age of 45. Peter's had lots of forms of counselling throughout his life to overcome this like CBT (cognitive behavioural therapy) which all point to his abondonment issues. Peter's separation anxiety from childhood really played a part in his adult life and he always wanted to be there for his mum. When his mum had a stroke, Peter supported her, spending lots of time with her to get her back to doing things for herself, things like walking and driving. Then in 2015, his mum was diagnosed with ovarian cancer and died just a few months later. This weighed so heavy on Peter's heart and his compartmentalised feelings of anxiety and depression really came to the surface. Peter was a head chef in a bistro in the city centre and had to give this up. The stress had just become too much and he needed to listen to this and take a slower pace with his life. His doctor signed Peter off work so that he could take more time for himself. 
Before, Peter had been a very vibrant and outgoing person, he was always socialising with friends and cooking up dinners to entertain. He's hoping to one day bring his cookery skills back to life, opening up a simple cookery class for his friends at our Dutch Barn wellbeing service. He hopes this can happen once things are back to normal and says that his mushroom risotto would still be his 'death row dinner' of choice. He hopes that giving people healthy recipes will be one step in making a difference to their mental health and wellbeing. Peter really wants to give back to others and offer his kindness. He is now at a point in his life where he feels he has really found his real self; before he says it was a bit of a mask. He looks back at his busy lifestyle five years ago and can't imagine going back to this. He loves having a nice, relaxing life now and wishes he discovered this years ago. His friends and family also comment on just how far he has come, he is so much happier in himself and his mental health is so much more stable today. Peter sees anxieties in people today and can really understand what they might be going through. Having seen how anxiety can be masked by a chirpy, energetic, outgoing personality he understands how important it is to share mental health experiences to support others. Peter has even gained counselling qualifications to be able to support other people with their mental health and wellbeing but says that, 'he sometimes doesn't have it in his tank', to support in this way. He needs to be kind to himself too.
Peter is relatively new to the Wellbeing Centres but says he has took to the support options really well. He's particularly enjoyed the beekeeping course and horticulture course down at Dutch Barn. He's made lots of friends since coming and likes doing something totally new after experiencing various mental health support options in the past. Peter has taken antidepressants in the past and had bouts of low mood and depression which have resulted in him being signed off work throughout his life. This supported him but he has always been a talker and finds that this is the best approach for him. He has always wanted to cope with things in his own way.  He loves how the mental health support at PSS is really shaped around each and every person and you can pick and choose support options that work for you. A neighbour introduced Peter to the Wellbeing Centres. He came to a celebration at Dutch Barn, and was really taken aback by the space and the people. 'I was struck by the kindness and just thought, I'm kind, these are my people'. Peter is such a compassionate person and found the same warmth coming from the people he met at the party amongst the singing, dancing and general fun on this sunny day. Before lockdown, he was recycling the rust from shipping containers to make a giant bee to decorate the farm where Dutch Barn lives – he can't wait to go back and carry on making these. This is where he thrives – in using learning and creativity to manage his mental health. After many years he has really found what works best for him and his wellbeing. He enjoys taking time for himself; singing,reading about astronomy and wandering about. Nothing gives him more pleasure today than standing on the grass bare-footed and thinking about life and his existence. The inevitability of life makes him feel stronger. There are things he can control and things he can't. One thing he knows he can control is how kind he is to others and to himself. Today, he holds onto the idea that no matter what we are experiencing, how stressed or annoyed we are, we can always stop and smile at someone in the park walking their dog, it's really that simple. 
#KindnessMatters 
#NeverMoreNeeded