Time To Talk Day
Time to Talk Day
Today is Time to Talk Day, a day that's all about breaking down barriers to conversations around mental health. We all have mental health and yet many people still feel too ashamed, embarrassed or isolated to talk about it.
Lots of our services work with people who are experiencing poor mental health in many forms. This could be victims of domestic abuse using Ruby @ Turnaround, people who don't feel able to live or get out and about on their own who have a Shared Lives carer or are living in one of our supported living arrangements, people benefiting from group therapy options at our Wellbeing Centres, female offenders being supported to make a fresh start at Women's Turnaround or families experiencing poor mental health because of their family member's addiction to drugs or alcohol and/or imprisonment in our Family Impact service.
Our teams offer person-centred, completely non-judgemental support. Being this support can take its toll on our own mental health, along with our own personal struggles. That's why we always aim to get everyone together during Time to Talk Day to have a chat about what's going on. We think that acknowledging mental health struggles are important for everyone – whether that's the people we support or our staff.
So, we had lots of stuff happening across PSS in the virtual and physical worlds to mark this day of awareness…
Time to talk in the traditional sense
Our first initiative for Time to Talk Day was a simple but really effective one. Staff at our head office, Eleanor Rathbone House, were encouraged to down tools and gather in our Cwtch – which is the Welsh word for cuddle. We chose this name for the area because it's a place for our teams and the people we support to get together and share a bit of warmth – and not just from a brew.
Lots of PSS people gathered and grabbed a hot beverage (and a slice of cake for some) between 10.00 am – 12.00pm. It was lovely to see everyone having a natter, talking about all kinds of stuff and not just the usual serious work chit-chat. That's all it takes to feel more mentally well sometimes, just taking that time out to talk about the simple things that we forget about when we're busy.  We don't need to chat about our mental health directly, because that can be difficult, but being around other people and finding commonalities can make us feel at ease.
Staff had a chance to play some conversation starter games and listen to a podcast recorded with the Anxious Fireman and PSS staff all about mental health. It certainly made us feel all warm and gooey inside and we had similar coffee mornings happening in our regional offices across the country.
Staff wanting to learn more about mental health were also invited to meet tenants who are supported by our Newby House service in Halewood, Liverpool. These are people who don't feel able to live independently because of their mental illness and want some support to make steps to integrate back into their local communities. It was great for staff from across lots of PSS services to get the chance to meet some of the people we support and get some insights into practises that they could incorporate into their own services.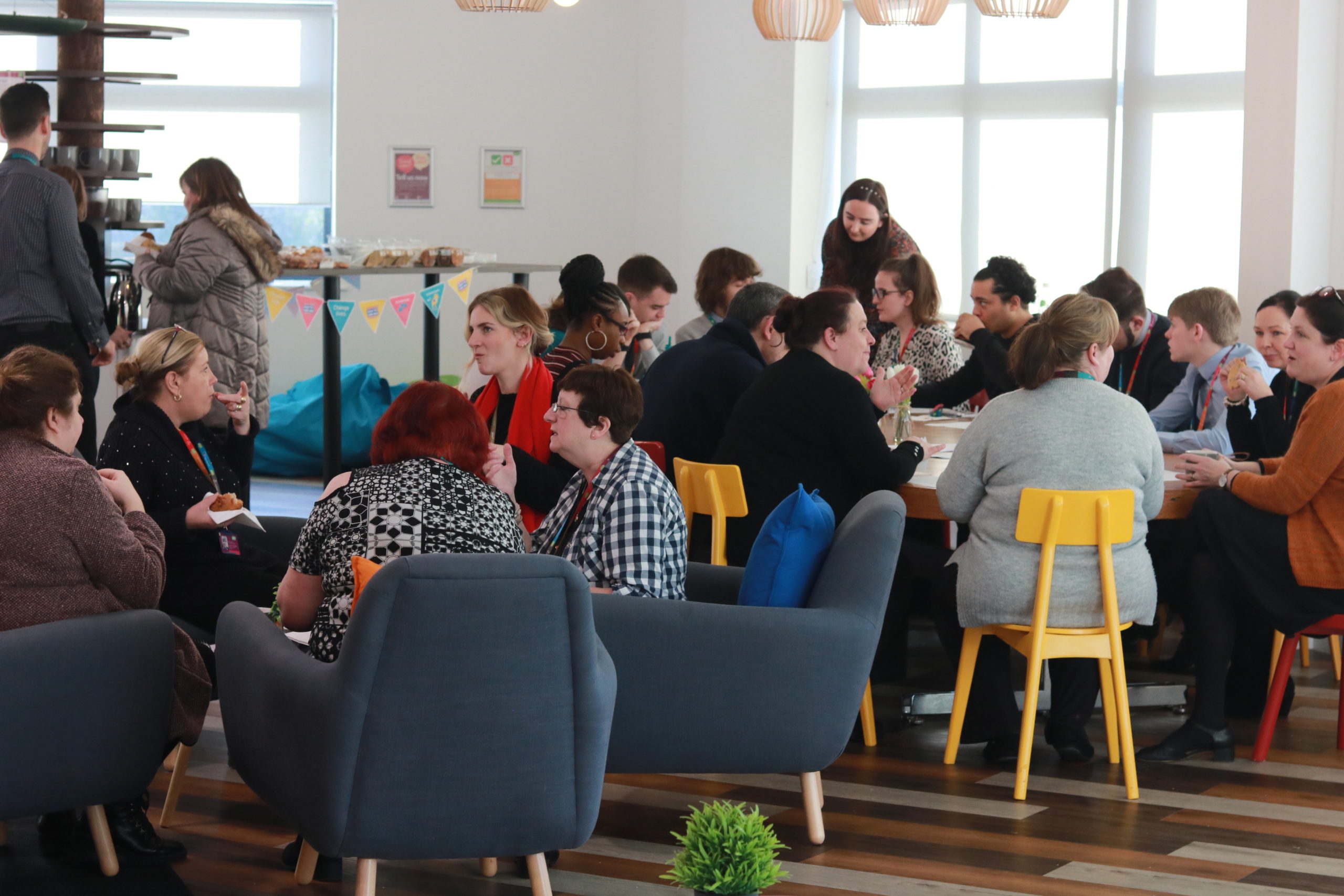 Time to vlog
For those staff who were really chock-a-block we wanted to make sure that nobody missed out and also that we had some resources that would stand the test of time, that we could refer back to after the day dedicated to talking about mental health; after all, the today's all about making this the norm all year round.
First of all, our learning and development team caught up with Sarah Dobie who manages our Newby House service mentioned earlier. Sarah has worked in various mental health services within PSS so had a lot of expertise to share about her own experience and the proactive approach her teams take to supporting people to manage their conditions, to develop themselves and to find new confidence.
Sarah chatted to us about what mental health is, how to spot the warning signs that people may not be feeling mentally well and also how to strike up conversations with people who may be experiencing low mood. For her, it's not about asking 'are you ok?' or 'are you struggling with your mental health'; this can be a difficult question to answer. Instead it's about striking up a general conversation when we think that somebody may be struggling. 'Would you like a cup of tea?', 'Did you see the footy last night?' for instance. Making someone feel comfortable can help them to open up and, even if they don't open up, just help them see that someone is there if and when they feel ready.
Here's a snippet of Sarah's vlog:
Time to podcast
Not only do we continuously learn from people delivering support in one of our services and share their expertise across the organisation, we also ensure that we're getting new knowledge and fresh perspectives from people outside of our organisation.
So, this week we sat down with Jonny, a.k.a. The Anxious Fireman (theanxiousfireman.co.uk) to chat to him about his experiences with mental health. Jonny worked as a firefighter for many years, a stereotypically macho role where people are expected to be strong and resilient. When a friend of Jonny's who worked alongside him chose to end his life, Jonny was overwhelmed by feelings of depression. He began to suffer panic attacks and felt that the environment he worked in didn't allow him to express his deepest fears and concerns. So he chose the route of drinking heavily to mask his illness. This stopped his panic attacks but didn't overcome the underlying issues. It also came with its own issues. So, Jonny decided to take the steps to setting up some wellbeing support services within the fire services. Today, he's a mental health first aid approved trainer who uses his own personal experiences to support others to be more savvy around their own and others mental health.
Jonny sat down with Sean and Lauren from our learning and development team and Siobhan from our comms team to have an informal chat about some of the issues that are important to him when it comes to mental health. Everyone opened up about their own personal experiences and asked Jonny for his perspective on some issues that are big at PSS. One of the biggest insights that Jonny has was the difference between mental health and mental illness. For him, the biggest struggle is people's perceptions, worrying what people will think if he has a panic attack. For him this is mental illness and his panic attacks are a natural response to his mental health. He explained how the world around him is what really creates mental illness, the anxiety about the unknown, the fear of things we have no control over and the worry about what other people might think. By being more open about mental illness and bringing this to the surface, raising the visibility of it, he thinks that people would feel less anxiety about their mental health. It would become more accepted as a normal part of life and therefore people would be less worried about what others would think.
This really is the essence of Time To Talk Day; reducing the stigmas surrounding mental health and accepting everyone for who they are, whether they feel mentally well at this time or not.
We'll be sharing the podcast soon but here's a sneak-peek in super speed.
Time to reflect
Time To Talk Day wouldn't be complete without hearing from somebody who we support with their mental health, somebody who is finding a positive outlet to share their experiences and is feeling more and more confident and positive about life because of their choice to acknowledge their mental illness.
Sue previously used our Wellbeing Centres in Liverpool. She suffers with depression and has experienced suicidal thoughts in the past. Her poem 'Back from the Brink' really captures the thought process of somebody who feels completely hopeless but finds that inner strength to carry on. Poetry and, more broadly, opening up about her experiences has really supported Sue to overcome some obstacles and feel that, however low she feels, there is hope.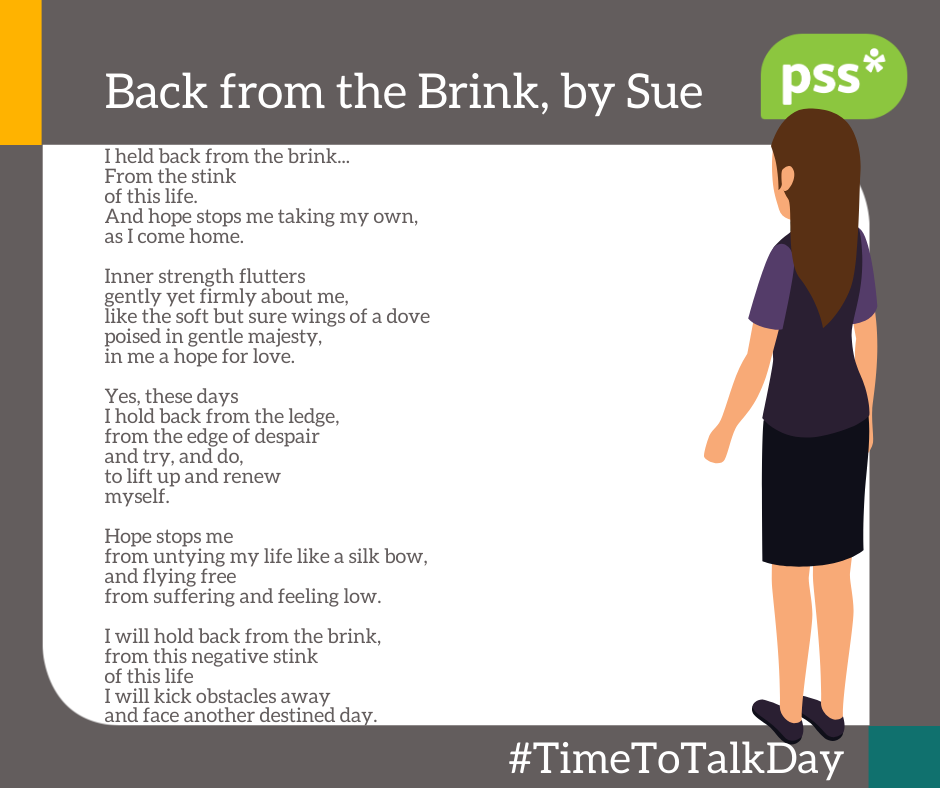 If you'd like to find out  more about our Wellbeing Centres, visit: bit.ly/YourWellbeingPSS
It's been great to see all our teams looking after themselves and each other. If you'd like some support with your mental health alongside something that you're going through, learn more about how our specialist services can support you: psspeople.com/how-we-can-help-you